This looks like it could be a lot of fun.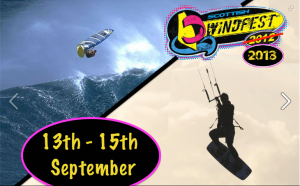 13th to 15th September Barassie Beach Troon
We are only five weeks away from this year's Scottish Windfest and we know Troon might seem a long way away for some, but with our plans this year we hope you agree that it's worth the trip.
The Scottish Windfest is one of the most exciting events on the Scottish Outdoor calendar. It combines a unique family-friendly beach event with on-the-water activities and competitions focussed on participation for riders of all ages and all standards – from beginner to professional.
This unique event combines both kitesurfing and windsurfing and is developed and organised by enthusiasts for enthusiasts. We adopt a grassroots approach and as a not-for-profit organisation we are dedicated to creating the type of event that we would all want to attend with our family and friends.
This year we aim to be bigger than before and this includes trade and industry demonstrations with the latest kit to try and experts to ask with following brands confirmed so far:
Airush kites & boards AIRUSH
Best Kiteboarding kites & boards BEST
Brunotti boards BRUNOTTI
Flysurfer kites & boards FLYSURFER
Liquid Force kites & boards LIQUID FORCE
Ocean Rodeo kites & boards OCEAN RODEO
Ozone Kites OZONE
Shinn boards SHINN
On and off water entertainment provided by Red Bull bringing their sound system, jet skis and hosting the Saturday night RED party. The whole event really is encapsulated in a carnival atmosphere with mini-funfair rides, hot and cold food stands and a fully serviced bar.
There is on-site camping a stones throw from the beach and all the activities whether you are rolling out of bed to hit the beach or rolling back from the party you are never too far from the action.
For more info check out http://scottishwindfest.com/
Any of thinking of going? Let us know in the comments and we'll see you there!!