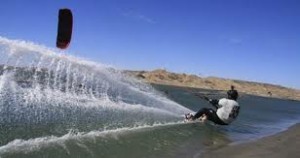 A new kitesurfing speed world record has been set, Rob Douglas from the USA clocked up 55.65 knots. That's 103 kph or bloomin fast as its more commonly known.! The new record was set in Luderitz on 28th Oct 2010. The previous record was set by Sebastien Cattalan only 14 mins earlier!
Good work guys and keep it up!!
Record: World Sailing Speed Record
Venue: Luderitz. Namibia
Name: Rob Douglas USA
Equipment: Kitesurf. Mike Zajicek custom. Kite Cabrinha Switchblade 9 sqm
Dates: 28th October 2010.
Course length: 501M
Current: Nil
Start time: 14; 10; 25.12
Finish time: 14; 10; 42.62
Elapsed time: 17.50 seconds
Speed: 55.65 knots
Corrected for current: N/A
Comments: Current record: Sebastien Cattalan FRA 55.49 kts, 28th October – 14 minutes earlier.
John Reed
Secretary to the WSSR Council