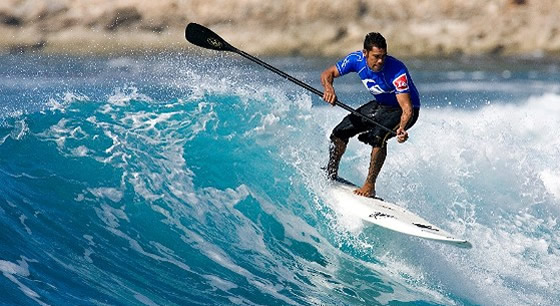 Too tired to kite, or one of the few occasions there's not enough wind? We'll be at the beach every day, if you come with us and there's no wind we'll charge you 10 € to cover the transport and ensure our instructors can eat. If you want to go and do your own thing, no problems, you don't pay us a penny and there's loads to do in Tarifa to keep you entertained.
Check out what else is available in and around Tarifa to ensure you're never bored in your time here. Of course if you just want to relax, Tarifa offers some of the greatest beaches in Europe and all year round sun, great for those lazy days.
Stand Up Paddle
We have a full range of Stand Up Paddle boards for you to take advantage of when there's no wind. Great for working on your balance, and wave riding technique this sport is ridiculously easy to pick up. Meaning anyone can be up and enjoying catching waves in a matter of minutes.
Price: 5 € per hour
---
Body Boarding
Another great sport that anyone can enjoy regardless of your experience in the waves. Body boarding is great in that anyone can be catching waves and having a great time in minutes. An awesome no wind alternative.
Price: FREE (on no wind days)
---
Wake Boarding
Not strictly in Tarifa but accessible by car never the less. A firm favourite on no wind days. Wake boarding is awesome cross training for kitesurfing. In fact we find those who can wakeboard learn to kite roughly 2 – 3 days quicker as the board skills are automatic.
Price: 45 € per person (includes half day pass, board hire and transport)
---
Other things to do in Tarifa
If you don't fancy any of that don't worry there's all this to do as well:
Rockclimbing, Trekking or Mountain Biking in the Alcornocales National Park
Whale & Dolphin Watching
Horse Riding – Along the beach at sunset is particularly impressive
Scuba Diving
Snorkelling
Yoga
Bird Watching – many of the birds migrating to Africa stop at Tarifa
Day trip to Morocco
Day trip to Cádiz
Day trip to Gibraltar
Day trip to Seville
Sunbathing
Get lost in the old town, check out the Moorish castle and while away the hours in the bars and cafes of Tarifa
For an idea of what other activities are available in Tarifa check out: Tarifa Accommodation & Activities