What Makes Us Different?
---
As long as there's wind and you've got the energy, we'll be at the beach, getting you on the board.
As a result a much higher percentage of our students leave us having learned to kitesurf than with most kitesurf schools. What's more, because of the much quicker learning curve you'll experience as a result of our method of instruction we absolutely guarantee that hour for hour kitesurfing lessons with us will cost you a LOT LESS than with any other school.
3 Hours A Day Sharing a Kite Is Just NOT Enough.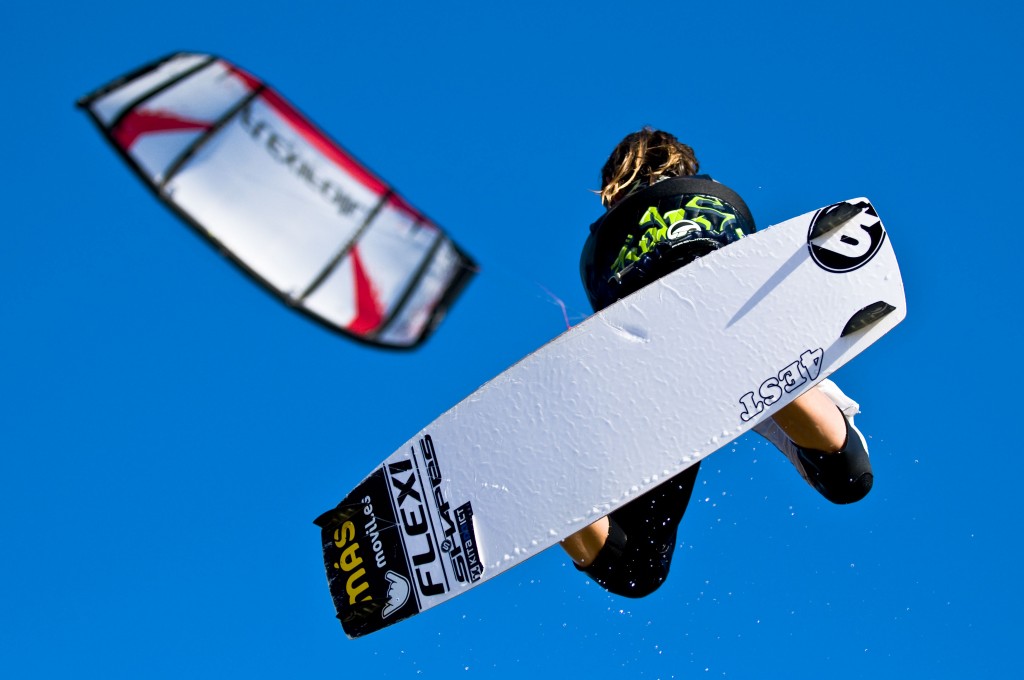 Most kitesurf schools give 3 hour lessons, sharing a kite, that really means you're getting maximum 1 and a half hours flying the kite, though in reality due to line tangles and swapping the kite over each time it's probably more like 45 mins. We give you your own kite so you get much more time under the kite and as a result learn to kitesurf much faster.
With most kite schools you have a limited time under instruction, normally 3 or 4 hours, and when your time is up, the whistle goes and that's that, whether you're just about to nail that next move or have spent half the lesson untangling lines or waiting for wind, times up…done, finished and you are left to foot the bill.
We Simply Don't Believe That's The Way To Learn To Kitesurf.
We believe in Total Immersion, which is why we've developed our UNLIMITED HOURS Instruction system.
UNLIMITED HOURS under instruction, guarantees that you learn much, much quicker than with a conventional 3 hour course and that even if we do have the occasional glitch or the wind decides to drop for a while, it's no problem as we literally have all day! Add in a complete package of board skills, all the essential theory and you flying your own kite and success is pretty much guaranteed.
One Lesson A Day…Yours!
Because other kitesurf schools often have 2 or 3 lessons running every day, students often have to fit around the kite schools schedules with lessons being organised at times where there's no wind just so the school can make its money, giving you a 3 hour lesson in which you learn nothing.
At Tantrum Kitesurf we only give one lesson a day…yours, so you can be guaranteed we'll be at the beach when the wind is best for you.
As Long As There's Wind & You've Got The Energy, We'll Be At The Beach Getting You On The Board.
We'll be training you for as long as it takes to get you kitesurfing, meaning that your chances of learning to kitesurf in your time with us go through the roof (our success rate on this course for getting people up on the board is pretty much 100%).
No Time Limit Means No Stress
We often have students come to us after taking a traditional 3 hour lesson telling us how they had a problem with the kite and sorting it out took the instructor an hour while they were expected to simply sit and watch with the clock ticking away. Or the wind dropped unexpectedly during their allotted lesson time, leaving them having done one run for 5 mins but still having to pay for the full lesson, inevitably the wind picked just as they were leaving the beach and the next lesson arriving, but unfortunately their allotted slot was over.
The other problem we often hear about is that students were just about to crack a move they'd been trying all day when the clock ticked over, the instructor called time and they had to come back tomorrow even though the wind was absolutely perfect right then.
At Tantrum Kitesurf we only give one lesson a day…yours, so you can be guaranteed we'll be at the beach when the wind is best for you.
Saves You Time and Money
This method of kitesurf instruction ends up saving you time and money in the long run. Rather than having to spend time organising lessons each week, wasting money and time driving to the location, praying for the right wind and that you haven't forgotten everything you learned last time.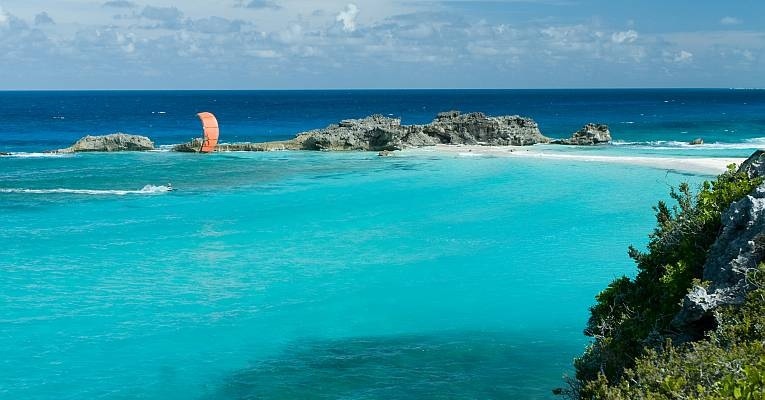 Instead you can learn to kitesurf in one week, with everything taken care of, with the certainty that you'll crack it in one week. You'll ultimately learn to kitesurf quicker, cheaper and with a lot less frustration than would be possible otherwise. This means you've got more money to spend on your first kitesurfing holiday and much more time to plan it!
Total Immersion Kitesurfing
We believe the best way to learn is to totally immerse yourself in something. That's why on our courses we don't just teach you to kitesurf we immerse you in it. From the theory you need to know…and some extra that you don't, to the best way to keep in shape for kitesurfing, to cross over activities you can do to improve your kitesurfing when there's no wind, we will give you an itch for kitesurfing that just cannot be scratched!!
We also want you to fully experience the lifestyle side of kitesurfing. So we'll be showing you the sights and sounds of the locations and really giving you a sneak peek inside the world of kitesurfing and the guys and girls that really do "live it" on a daily basis.
---
Kitesurfing Hacked
We've taken the teachings of some of the greatest skill hackers of our time, adding in the principles of peak performance, zone state technology, the findings of the Flow Genome Project and the results of the 10, 000 + hours of teaching time we have racked up…
and have come up with a teaching method that is guaranteed to get you where you want to be MUCH faster than any other.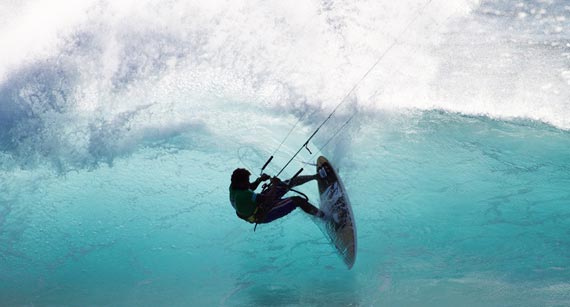 Having tried and tested this methodology for several years now we have seen, time and time again, results that have quite frankly blown our minds.
In a typical learn to kitesurf lesson our methods knock 2 – 3 days off your time to ride, when teaching more advanced tricks they cut your time to execution in half.
For example when learning to kite with traditional kitesurfing lessons you are first given the board on day 3. With the Tantrum method, we'll give you the board by the 3rd hour (often even sooner) and what's more, you'll be skillful enough to actually handle it.
We have applied this system across the entirety of kitesurfing so no matter what your level or what you want to learn, we've hacked a way of doing it faster, smarter and with less effort than traditional methods or wisdom would deem possible.
Likewise we've found the key to learning at record speeds is to make it fun, thus making it effortless. For that reason we structure our coaching very differently to most other training centres to make the entire process a hell of a lot of fun.
You'll have less wipe outs and less stress as our system is designed to remove the points of failure and inspire confidence earlier by eliminating any chance of messing up to start with.
As a person relaxes with what it is they are trying to do that action becomes effortless as your body actually assists in the action rather than fighting it. Our system makes you as comfortable as possible as early as possible so that you relax and you are in a receptive place where you can learn effortlessly.
---
Get Your Own Kite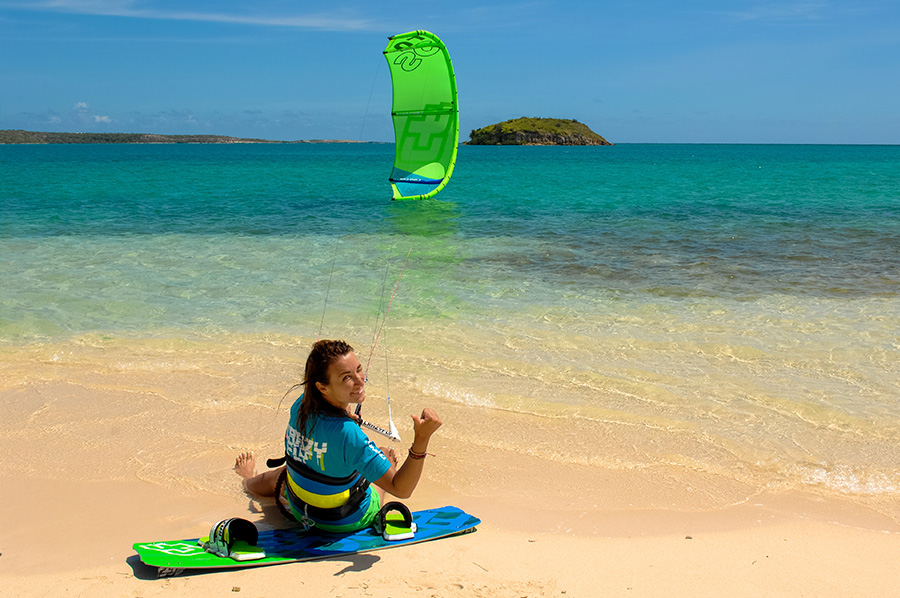 No more waiting for your partner or standing around while they untangle their lines, on our camps, as long as conditions allow (and they nearly always do) you'll be on your own kite.
This alone effectively halves your learning time.
Why Private Lessons?
More than HALVES the time needed to become independent
SAVE money because you learn MUCH faster.
No waiting for a partner to untangle their lines, finish their turn or sort themselves out.
We can use the right kite size for you (with group lessons often a compromise has to be made in which kite we take between the size and ability of both people)
We have a 4, 6, 8, 10, 12 & 14 m kite just for you so you will ALWAYS be on the right kite whatever the conditions (at most schools you are simply given whatever they have left and expected to deal with it).
Have a Look At This Time Comparison Chart To See How This Works:
| | | |
| --- | --- | --- |
|   | Private Lessons | Group Lessons |
| Hours Of Lessons | Level Reached Using Our Methods | Level Reached |
| 3 | Board on Feet | Flown Kite On Beach |
| 6 | First Rides | Body Dragging |
| 9 | Starting to Edge | Starting with the Board |
| 10 | INDEPENDENCE* | Still buggering around with the Board |
| 15 | Riding Upwind | Waterstarting |
| 20 | On Holiday in Some Exotic Destination! | First Rides |
| 25 | On Holiday in Some Exotic Destination! | Starting to Edge |
| 30 | On Holiday in Some Exotic Destination! | INDEPENDENCE* |
| 40 | On Holiday in Some Exotic Destination! | Riding Upwind |
* We define Independence as being able to take yourself to the beach to confidently and safely practice kitesurfing without an instructor.
Private Instruction & Your OWN Kite
THE FASTEST WAY TO LEARN…BAR NONE
Group Lessons…GREAT For Us…Not So Great For You
Now we love group kitesurfing lessons as they pay well and provide us a really convenient way to teach, but over the years we've realized while they may be great for us, they aren't so good for you guys. Ultimately we noticed a few problems that just kept cropping up, affecting learning times and leading to frustration for you, the student.
Problems With The Lines
One of the big issues is if your partner has problems with the lines and gets them tangled. As you are sharing a kite you have to wait while the lines get sorted out, taking away from your time on the water.
Frustrating
Another problem we spotted is that one person can really hog the kite, spending hours on each run while you watch, frustrated, from the beach. Again not an ideal situation and while we obviously tried to make time under the kite as fair as possible, you certainly shouldn't have to pay for watching someone else learn to kitesurf.
If, whilst sharing a kite, your partner doesn't progress at the same speed as you, so for example, you are learning to water start whilst your partner is still struggling with the body drag, (despite having started the day at the same level) you now need a entirely different kite and line setup to your partner but end up flying a kite that is inappropriate for your skill level just to ensure your partner doesn't get blown away!
While we always tried to pair people up with a partner of the same weight often this simply wasn't possible, if this weight difference is fairly large, then the 2 of you really need different sized kites to compensate, which again is a problem if you're both sharing the same kite.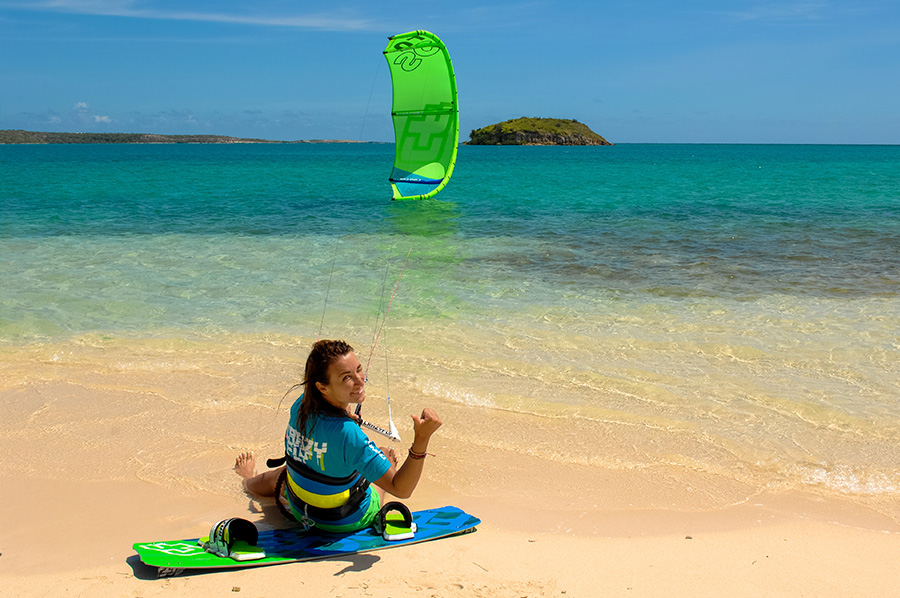 Our Solution
Giving you one kite and one instructor to yourself.
We've found that this way we've more than HALVED the time it takes to get someone from zero to hero.
Often this can be done in as little as 6 hours.
This massively reduces your time under instruction and ultimately saves you time and frustration as the whole learning process becomes much, much smoother. In the long run this method also saves you a LOT of cash as well, as although it works out more expensive hour for hour, you need a LOT LESS time under instruction (we've literally had people up and riding in 6 hours), which means you've got more time and money to plan your first kitesurfing holiday!
We've actually found that in 1 hour of private coaching you progress the same amount as with 3/6 hours of group lessons, and with all the energy you save from the reduced time span, we can pack even more learning into each day.
---
The Right Kit, For You…Every Single Time
Having the right size kite is probably THE most important aspect of learning to kitesurf and we've got it covered. We've made sure that we have enough kites so that every person who learns with us has access to every kite size between a 4m and a 14m, every day. These kites are reserved solely for that persons use every day of the camp, so you can be assured that you will have the right size kite, whatever the conditions.
We have taken this a step further so when you learn with us, you'll have 5 different bars all for your use only. All with different length lines so we can adjust to the conditions and use the appropriate length lines for the stage you're at. Like wise you'll have a selection of boards that we can choose from depending on your level and what we are trying to achieve.
At most schools they buy a selection of kit (often not enough for every person to have the kit they want, as its all so damn expensive!) and then it's a case of, first come, first served amongst the instructors, so if your instructor is late showing up, you can end learning on a kite, bar or board that is totally inappropriate for the conditions and your current level. This can seriously slow down your learning.
---
Never Wait For Wind – Not Just Kitesurfing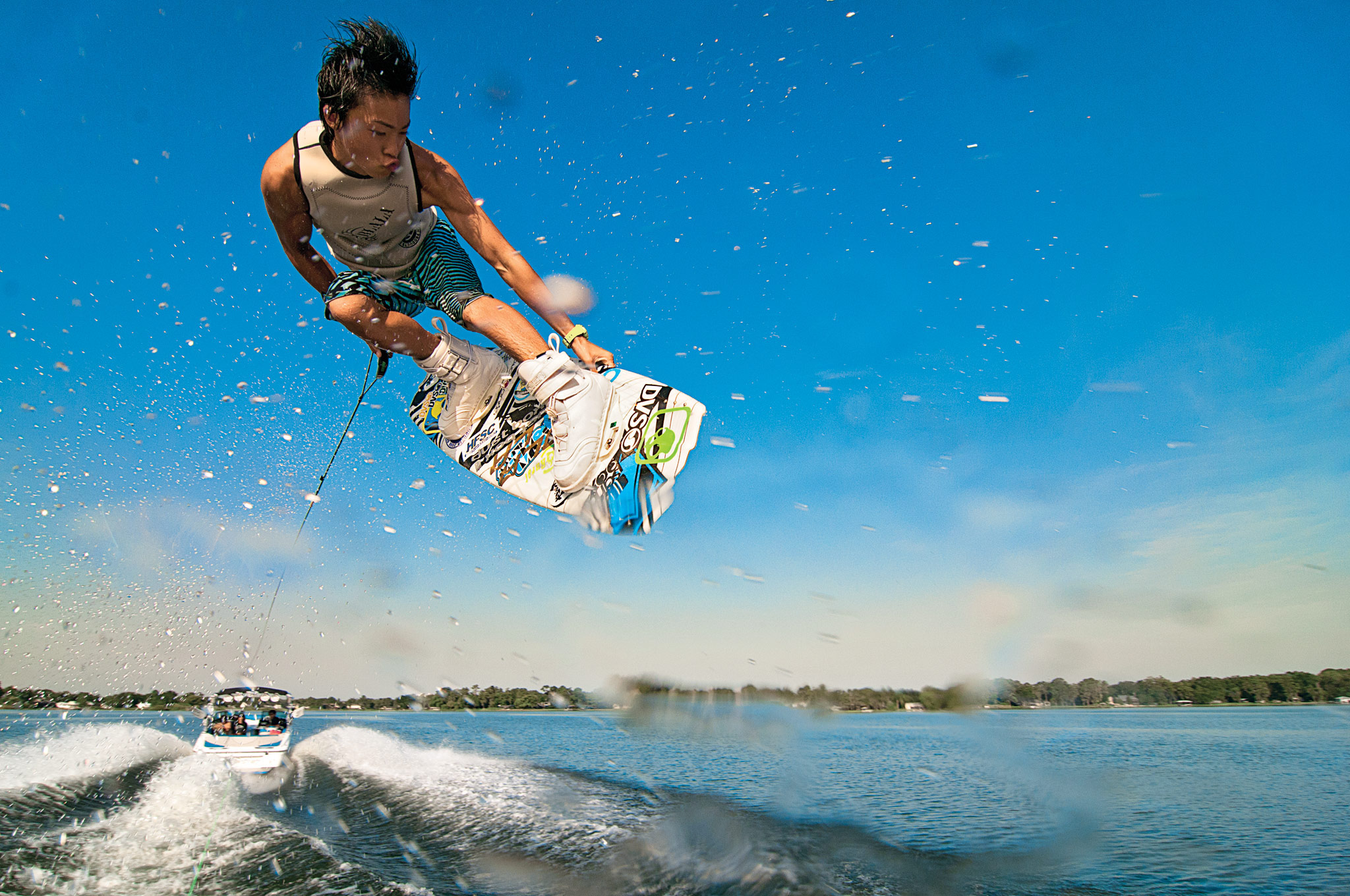 Yes, we are primarily a kitesurfing company, BUT we don't like to sit around on the beach, waiting for wind we cannot control. For this reason we do not depend on wind but have developed a system to maximise your time here. So if there's no wind, or the forecast is poor we have a range of other activities you can choose from if you feel like it, like wake boarding, surfing, SUPing or pretty much any other activity you can imagine.
The reason for this is simple, we have realised over the years that there is no such thing as guaranteed wind and this will be true where ever you go in the world. As kitesurfers we simply have to accept that we are reliant on something that is fundamentally out of our control and getting frustrated about it is as futile as…well, as futile as getting angry with the wind for not blowing!
Board Skills Are The Key
We find that those with good board skills typically pick up kitesurfing 2 – 3 days faster than everyone else.
So we have picked the best cross over sports, both in terms of the skill sets they provide (which cross over into kitesurfing) but also the conditions they need to work best (ie. no wind). That way wherever you go in the world, whenever there's no wind you'll have something else cool that you can do.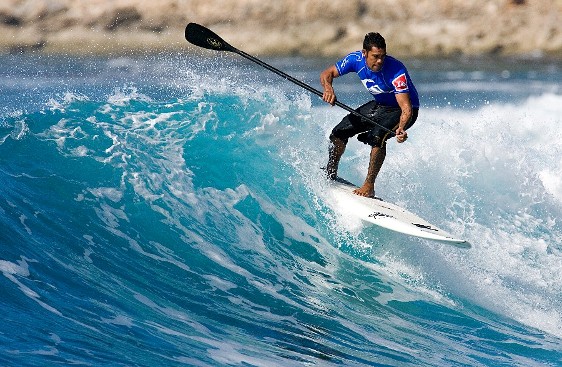 So no matter what the wind does, you'll go home being able to kitesurf, wake board, surf, paddlesurf or some combination of these sports.
That said we do everything we can to absolutely maximise your time when there is wind, including giving each person their own kite whenever conditions allow and the best possible student, instructor ratios, employing advanced teaching techniques, utilizing cross training and optimal human performance techniques to make sure you really do learn as much as possible.
---
Throw Away The Rulebook, We'll Have You On The Board On Day 1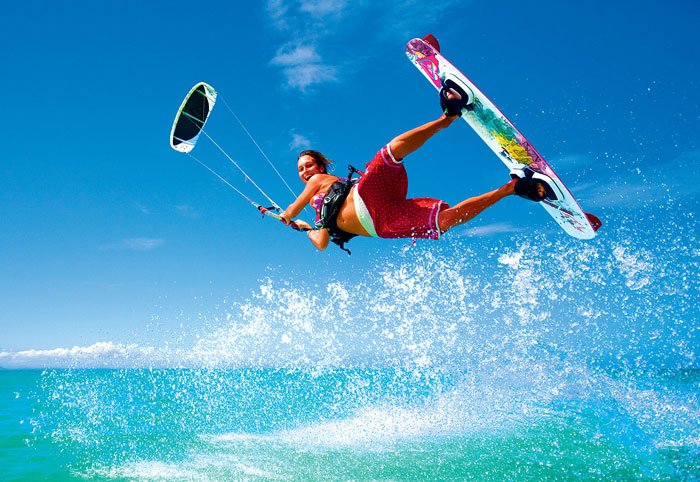 Over 10 years we have refined our teaching methodology and have come up with a system, that rapidly improves learning time and has the potential to get you up and on the board, much quicker (how does in 1 day sound?) than with a conventional course and still manage to do it in a way that is safe and a hell of a lot of fun.
We call this The (No) Tantrum Method.
This way you then have the rest of the week to refine your skills and by the time you leave us it's possible for you to be truly independent. Something that can often take months.
It also means that when we do come to teach you the slightly less glamorous stuff (like safety and upwind body dragging) you really pay attention as it is really relevant to you as a kitesurfer. Rather than listening to an instructor give you a 2 hour safety brief on your first day before you've even touched a kite, we generate the excitement first (in a safe environment) by getting you riding and then cover the essentials at a time when you are hungry to learn them. Meaning that when you do need to use these skills you can remember and use them.
This incredibly rapid rate of learning is made possible by 2 factors, which separate us from every other kite school on the planet, our highly advanced teaching methodologies (utilizing cutting edge NLP and deep learning practices) and our Unlimited Hours format, so as long as there is wind and you have the energy, we'll be at the beach getting you on the board.
---
Video Feedback (Camps Only)
This has become the secret weapon in our arsenal to get you kiting. Using video feedback we can show you the mistakes you are making in real time, allowing you to really visualise the sticking points you are having. Students have described this as THE determining factor in fast forwarding their progression and we have seen massive improvements since introducing it into our camps.
---
Wakeboarding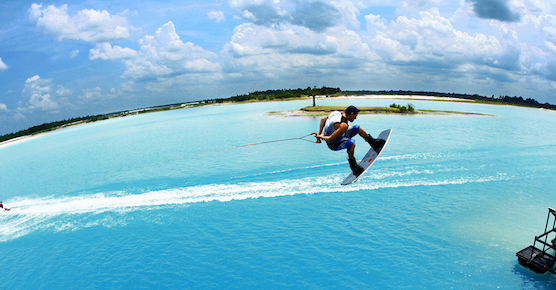 Wakeboarding is the ULTIMATE no wind cross over activity for kitesurfing. We find that typically wakeboarders learn to kitesurf 2 – 3 days faster than anyone else as the board skills required are so similar. Not only is the board start EXACTLY the same (and this is the part most would be kitesurfers struggle with) but once they get the board on their feet, wake boarders know exactly what to do. This virtually eliminates the need to learn the water start and board riding skills, so all you'll need to worry about is the kite.
Wakeboarding will teach you the essential board skills you'll need to master kitesurfing & is the perfect no wind day option.
Our wakeboarding setup is designed to get you practicing the board start and basic board riding skills, that we can then translate to kitesurfing. If you're coming looking for perfect glass water and the latest ski boat you won't find it here.
---
Your Accommodation
Let us help you find somewhere cool to stay.
Need Somewhere To Stay?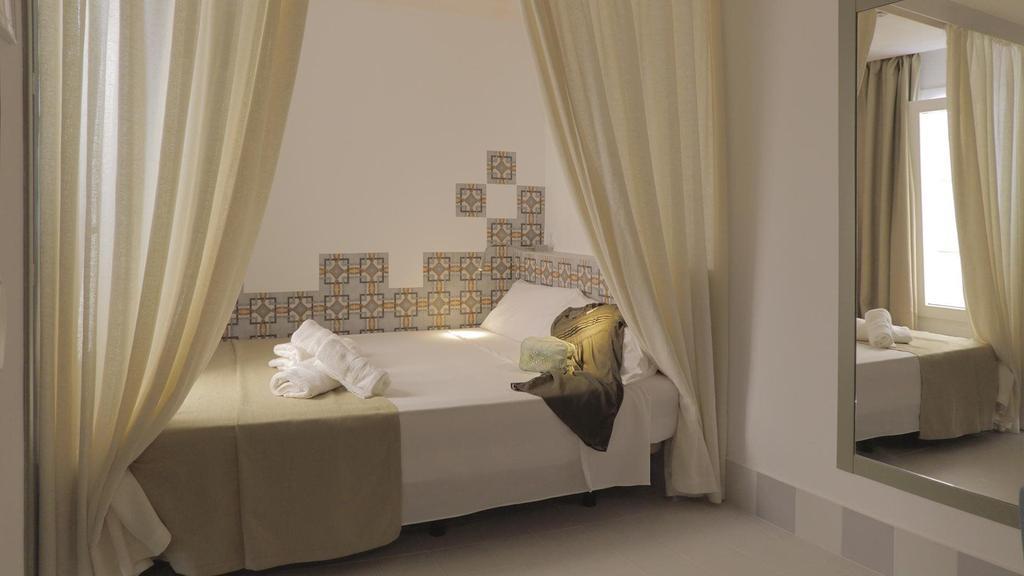 Stay in the heart of the old town of Tarifa.
10% Discount on Your Accommodation
Get 10% OFF Your Stay at Hostel Gravina.
Just Book Through This Page: Hostal Gravina*
& Show Your Kitesurf Course Receipt at Reception When You Arrive.
*Note Bookings must be done through this website and not through a partner site ie Booking.com (the price is the same anyway!)
We work with many different hotels, hostels and B & B's in Tarifa so if Gravina is full or isn't your thing just let us know what you're looking for when your booking and we'll give you a hand finding something that fits.
---
Personal Service
We are a small business (and really want to stay that way) we enjoy making friends with our clients and really want to make sure we give a highly personal service. We deliberately only take a few people on any of our kitesurfing holidays at a time (despite all the business consultants I meet telling me I need to expand, expand, expand!), so you can be assured loads of time on the kite and a LOT of attention from our instructors.
We do this for 2 reasons, because we really like getting to know you guys, you really make this job what it is and we want to say "Thank You" by ensuring that you have the best time possible out here with us. There is of course another slightly more selfish reason. You see, I want to be running this business when I'm 95 and the best way I can think of ensuring that I am, is if you go back home and tell all your friends how amazing we are!
We limit numbers on this course very carefully so you can be assured a personal service and loads of time on the kite as our instructors will be able to give you a LOT of attention. However this also means that this course books out quickly so please book early to avoid missing out.
---
The Best Instructors
We choose instructors based not on how good a kitesurfer they are (as we are confident we can quickly make them very good at this) we choose them instead based on their ability to teach, their ability to communicate effectively and most important their ability to make learning and your holiday fun for you. This really shines through, and we are well known in Tarifa as being the friendliest school on the beach.
Our Instructors Are Paid For Your Progress
As far as we are aware we are the ONLY kitesurfing company on the planet where our instructors are paid for your progress. That means they are absolutely motivated to get you up and riding as quickly as possible…and not encouraged to drag out your learning time to ensure you keep coming back (and paying us!) indefinitely. Our goal is to get you up, and out there, on your own as fast as humanly possible.
We look forward to welcoming you to the Tantrum family.