What Makes Us Different?
---
* Camps Only
UNLIMITED HOURS COACHING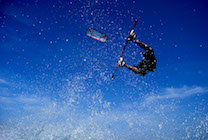 We don't believe in taking liberties with your time and we know that every moment of wind is precious. That's why we've developed our UNLIMITED HOURS Coaching system.
UNLIMITED HOURS gives you a system where you have one coach, for the day and go out when the wind is best for the exercise you are trying to perfect, where you can stay for as long as you like and when there is no stress of the coach calling time as you are just getting into your stride.
So…As Long As There's Wind & You've Got The Energy, We'll Be At The Beach And You'll Be On The Board.
---
Breakfast & Lunch Included
A large problem we faced when we started these camps was most people were exhausted by day 4 and then would simply tread water for the last 2 days due to a lack of energy. We want to make sure you have the energy to last the entire week.
So we teamed up with the top kitesurfing nutritionist, (this lady determines what Aaron Hadlow and most of the PKRA World Tour eat on a day to day basis) and threw in a healthy dose of cutting edge bio hacking technology, alongside the very latest developments in Sports Nutrition providing you with breakfast and lunch every activity day of your camp to ensure you have healthy energy all day long, for the entire time you're with us.
---
Your Accommodation
On our camps accommodation is included, please see the individual camp description for the specifics
For Our Lessons: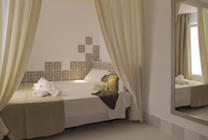 Stay in the heart of the old town of Tarifa with your fellow kiters.
10% Discount on Your Accommodation at Hostel Gravina.
Just Book Through This Page: Hostal Gravina* & Show Your Kitesurf Course Receipt at Reception When You Arrive.
*Note: Bookings must be done through this website and not through a partner site ie Booking.com (the price is the same anyway!)
---
Beach Transfers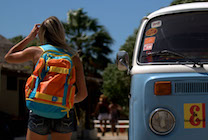 We'll take you to and from the beach every day. We'll also be running a shuttle service into town in the evenings for those of you with the energy to get yourselves there!
---
Your Own Kite & 6 Different Kite Sizes Just For You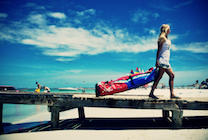 Having your own kite means you spend 2 – 3 times longer actually flying the kite (and not watching your partner have all the fun) so you get every ounce of value out of the time you have.
We can use the right kite size for you (with group lessons often a compromise has to be made in which kite we take between the size and ability of both people)
We have a 4, 6, 8, 10, 12 & 14 m kite just for you so you will ALWAYS be on the right kite whatever the conditions, this is probably the single biggest factor in ensuring you learn 3 x faster..
We also have 4 different bars each with different line lengths just for you, so we can perfectly adapt your set up every day for the exercise you are learning.
---
Never Wait For Wind – Not Just Kitesurfing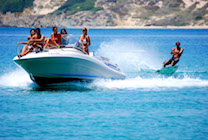 Yes, we are primarily a kitesurfing company, BUT we don't like to sit around on the beach, waiting for wind we cannot control. For this reason we do not depend on wind but have developed a system to maximise your time here. So if there's no wind, or the forecast is poor we have a range of other activities you can choose from if you feel like it, like wake boarding, surfing, SUPing or pretty much any other activity you can imagine.
Board Skills Are The Key
So we have picked the best cross over sports, both in terms of the skill sets they provide (which cross over into kitesurfing) but also the conditions they need to work best (ie. no wind). That way wherever you go in the world, whenever there's no wind you'll have something else cool that you can do that will also improve your kiting.
---
The Friendliest Team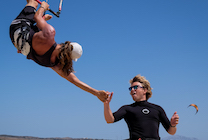 We choose instructors based not on how good a kitesurfer they are (as we are confident we can quickly make them very good at this) we choose them instead based on their ability to teach, their ability to communicate effectively and most important their ability to make learning and your holiday fun for you. This really shines through, and we are well known in Tarifa as being the friendliest school on the beach.
We look forward to welcoming you to the Tantrum family.
---
Personal Service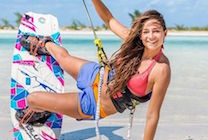 We are a small business (and really want to stay that way) we enjoy making friends with our clients and really want to make sure we give a highly personal service. We deliberately only take a few people on any of our kitesurfing holidays at a time (despite all the business consultants I meet telling me I need to expand, expand, expand!), so you can be assured loads of time on the kite and a LOT of attention from our instructors.
We do this for 2 reasons, because we really like getting to know you guys, you really make this job what it is and we want to say "Thank You" by ensuring that you have the best time possible out here with us. There is of course another slightly more selfish reason. You see, I want to be running this business when I'm 95 and the best way I can think of ensuring that I am, is if you go back home and tell all your friends how amazing we are!
We limit numbers on this course very carefully so you can be assured a personal service and loads of time on the kite as our coaches will be able to give you a LOT of attention. However this also means that this course books out quickly so please book early to avoid missing out.
---
Throw Away The Rulebook…
We'll Have You On The Board in 1 day
Over 10 years we have refined our teaching methodology and have come up with a system, that rapidly improves learning time and will get you where you want to be MUCH faster and still manage to do it in a way that is safe and a hell of a lot of fun.
We call this The (No) Tantrum Method.
This incredibly rapid rate of learning is made possible by 2 factors, which separate us from every other kite school on the planet, our highly advanced teaching methodologies (utilizing cutting edge NLP, the very latest developments in skill hacking methodology and deep learning practices) and our Unlimited Hours format, which absolutely maximises every second of wind.
---
Video Feedback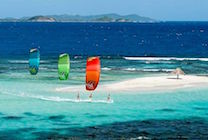 This has become the secret weapon in our arsenal to get you kiting. Using video feedback and some advanced video coaching software to analyse your technique we show you the mistakes you are making and view yourself next to a pro to really see the minute changes that make all the differences.
Students have described this as THE determining factor in fast forwarding their progression and we have seen massive improvements since introducing it into our camps.
---
Kitesurfing Hacked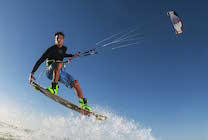 We've taken the teachings of some of the greatest skill hackers of our time, adding in the principles of peak performance, zone state technology, the findings of the Flow Genome Project and the results of the 10, 000 + hours of teaching time we have racked up…
and have come up with a teaching method that is guaranteed to get you where you want to be MUCH faster than any other.
In a typical learn to kitesurf lesson our methods knock 2 – 3 days off your time to ride, when teaching more advanced tricks they cut your time to execution in half.
Likewise we've found the key to learning at record speeds is to make it fun, thus making it effortless. For that reason we structure our coaching very differently to most other training centres & make the entire process a hell of a lot of fun.
---
Wakeboarding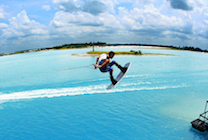 Wakeboarding is the ULTIMATE no wind cross over activity for kitesurfing.
Wakeboarding will teach you the essential board skills that you can then transfer directly to your kitesurfing & is the perfect no wind day option.