When You Absolutely HAVE To Become an Independent Kitesurfer In 1 Week…GUARANTEED
1 Week, All Included In The Most Consistently Windy Kitesurf Spot On Earth & Our Revolutionary (No) Tantrum Method Of Teaching Means You'll Be An Independent Rider In 1 Week GUARANTEED
Backed by the Tantrum Guarantees
No Wind…No Pay…Simple
We're so confident you will love this course that if, by day 3, you're not happy with us, let us know and we'll give you your money back, no questions, no stress, no problems.
---
What Makes Us Different?
---
We've chosen this time of year as Tarifa is a better location for learning to kitesurf in October than it is in the summer.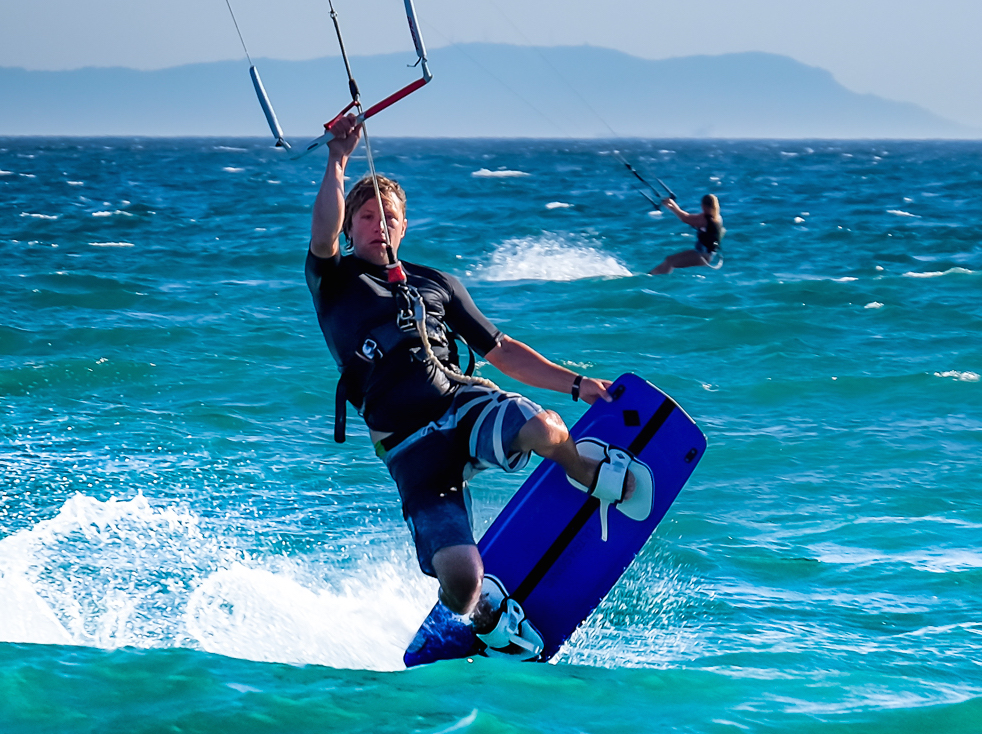 The beaches are empty and the weathers great.
So you've got as much space as you could want to make mistakes and learn without worrying about tangling lines with other people.
At this time of year we also have unbridled access to all the possible spots up and down the coast (as there are no sunbathers or beach restrictions in place) so the chances of you getting out on any given day increase dramatically. As if there's no wind (or more often too much wind!) we simply drive to where it's better.
What about the temperature and wind?
We're blessed in Tarifa with a great climate and even in the depths if winter it doesn't drop much below 18-23 degrees in the day, with clear skies (and most importantly wind!). Last new years day we were at a BBQ on the beach in just boardies and bikini's.
We also do not rely on traditional weather systems for our wind (instead the Straits of Gibraltar create our very own wind tunnel) and so Tarifa is one of the few places worldwide to truly get wind all year, what's more in the winter the prevailing wind is the much more pleasant Poniente wind, which generally blows about a force 4, cross onshore and is as constant as it comes.
---
1 Week Independence Camp Includes:
6+ hours of kitesurf training every day. Including 21 hours of actual "On The Kite" time spread over the week.

When we're not on the water we'll be looking at video feedback from the previous day, what you can do off the water to improve your performance on the water and the essentials you need to know to stay safe and progress rapidly.
This way we absolutely guarantee that you get out in the best wind of the day and progress even faster in your time under the kite.

GET YOUR OWN KITE, every single day, this alone effectively doubles your learning speed.
Maximum of 1 instructor to every 2 students, so you get personal attention.
Wakeboarding, behind our boat or at the local cable park. Wakeboarding is THE BEST cross training for kitesurfing and so we will be doing it whenever the wind doesn't behave.
Accommodation, a private room in our apartment. Sharing with your fellow kitesurfers, most of our clients come alone so this is a great way to meet your future kiting buddies.
Each camp is run personally by Sam Guest – Owner of Tantrum Kitesurf.
Breakfast & Lunch (gluten free) every day prepared to our exacting standards (excluding transfer days).
No Wind…No Pay.
Video Analysis.
Beach Transfers so you don't need to hire a car.
NTX coaching – covering all the things you can be doing OFF the water to improve your performance ON the water (these will run in the mornings when there is no wind).
All our coaches are experts in The (No) Tantrum Method of teaching, we have hacked kitesurfing to ensure you learn faster, safer and with a lot of fun.
Full Kit Hire.
Rescue boat service in the summer months allowing us to teach you on glass flat water whenever the levante wind blows.
IKO Certification allowing you to hire kit at other centres upon completion of your course.
Full Liability & Accident Insurance.
Full Kit Insurance.
Not Included – Airport Transfers, BUT…
We will be in touch a few weeks before the camp to help you organise ride shares from the airport (either taxi or if someone is hiring a car, sharing costs on the hire car).
---
Riding Level:
Riding Downwind & Self Sufficient as a Kitesurfer
---
Our Guarantees

1) No Wind…No Pay…Simple.
2) We're that confident that you'll LOVE this course that if, once you've got to DAY 3, you're not happy with us, let us know and we'll give you your money back, no questions, no stress, no problems.
---
Check Dates, Availability & Prices
Can't Make These Dates Or Want To Do More Or Less Days? – Check out our Private Coaching which starts every day and runs as long as you like.