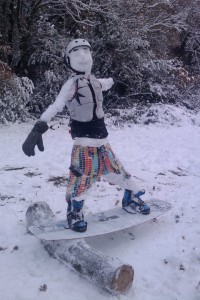 Well as those of you in the UK and Northern Europe will have noticed winter is most definitely here! For most of us that means an end to kitesurfing until the spring. There is however another option. Snow kiting has been taking off as a winter alternative to kitesurfing and is now a common sites on the slopes at several major resorts. Snowkiters often have their own dedicated zones and can enjoy cruising the countryside taking in the amazing sights so often found in these areas , not paying for ski lifts and practicing their kite skills at the same time!
If you already kitesurf, learning to snowkite is easy and will take only a couple of minutes as you re-adjust to the slightly different feel afforded by a snowboard and the surface of the snow itself . For someone new to the sport it offers a great way into kitesurfing, as once you have learned to snowkite (typically in just 2 days) you can transfer all these skills to the water and generally be up and off in a day.
You can use the same kite as you use on the water and any old  snowboard or pair of ski's you have lying around (or choose to rent). For beginners it's generally easier to start on ski's as these offer a much simpler, point and go method of getting around. But learning on a snowboard really isn't hard…the falls are much gentler too!!
So now, even if it is snowing outside you can polish off your kites and still get some time keeping your skills honed on the (frozen) water!!
If you are interested in learning to snowkite, Tantrum Kitesurf are now doing snowkiting courses in their traditional Unlimited Hours Instruction format, click on this Snowkite link for more details.