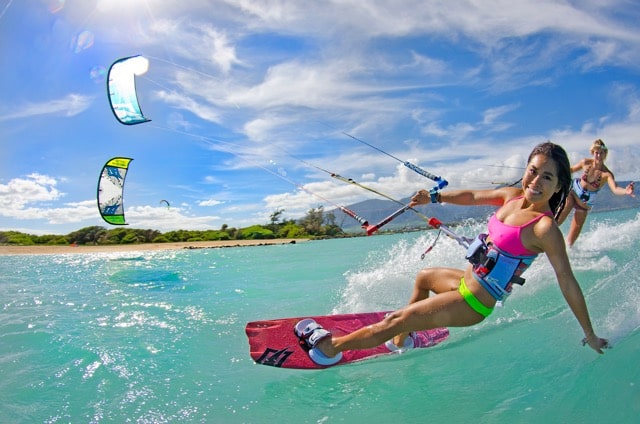 Which One Should YOU Be Wearing?

Seat Harnesses

Advantages
The main advantage of the seat harness is that that they will not ride up around your armpits. The leg straps keep the harness firmly in place around your waist meaning that beginners and those with lower back problems find them much more comfortable.
Support
They are often larger and more bulky than waste harnesses and so offer plenty of support. The spreader bar is also naturally positioned slightly lower down than on a waist harness and sits perfectly at your centre of gravity. Once riding this makes it easier for you to really crack the kite while resisting with your entire body weight.
Disadvantages
The greatest disadvantage of the seat harness is the looks, to say it looks uncool is something of an under statement….it looks like you're wearing a nappy.
The other major problem for us gents when wearing a seat harness is that the leg straps can get wrapped around our nether regions and lead to some fairly unpleasant consequences and some fairly high pitched squeals, especially while jumping or performing high-powered maneuvers.
Because of the extra bulk they also much less comfy and more restrictive than waist harnesses.
My biggest problem with seat harnesses for those who can actually ride is that they allow you to sit down on the power of the kite, rather than counter balance it by leaning out. This leads to many new riders developing a "shitting" stance while riding i.e. bum stuck out, legs heavily bent, as it seems much easier and safer to control the power coming through the kite that way.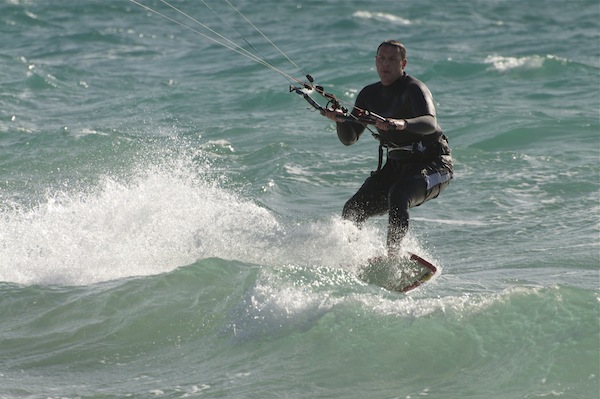 Unfortunately nothing could be further from the truth. In this position you have no ability to counter balance the pull of the kite and the first gust of wind or wave will likely send you sprawling over the front of the board. Conversely with your hips forward and your head thrown back, you simply push your hips forward a little more and lean back and you can eat up massive gusts.
If you look at the photo above you can clearly see if he pushed his hips forward and threw his head back, he would be in a much better position to handle the pull from the kite.
---
Waist Harnesses
Advantages

Sex Appeal
They look cool, possibly the greatest advantage and most probably the reason why they are more popular on the beach is that waist harnesses look a lot cooler than seat harnesses. They are less bulky, have less straps and generally come in more creative designs. This alone is a good enough reason for most people to chose to wear them even if ignorant of the rest of the pro's and con's.
Comfort
In general they are also less bulky and thus more comfortable than seat harnesses. While the lack of leg straps give you a greater range of motion whilst wearing one. Indeed many people loosen their waste harnesses whilst riding to enable the harness to slide around as the kite and their body moves and several waist harnesses are now being built with slider spreader bars which move from right to left as your body position changes.
Shag Don't Shit
For me the greatest advantage of Waist Harnesses are that they force the new rider into the correct posture. Because they will ride up round your armpits if you attempt to sit down on them, they force you to push your hips forward and fling your head back in that classic "shagging" position that leads to comfortable, controlled riding. If you try to sit down on the harness (in the "shitting" position) as can happen with seat harnesses, the harness will ride up around your armpits.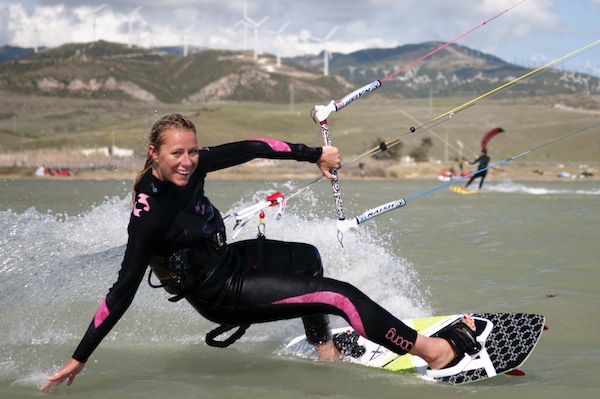 Looking at this shot you can see that all Maria has to do here is drop a little bit of weight back (or throw her head a little further to the back) and she can easily control any gusts coming from the kite (this would also have the effect of pulling her harness down), her hips are pushed much further forward and the weight of the entre body is counterbalancing the kite
Disadvantages
The Wonderbra Effect
As mentioned before the waist harness can ride up, this is especially pertinent to beginners who are flying the kite an awful lot around the 12 o'clock position. This not only looks ridiculous but it is amazingly uncomfortable (but can be a great look for male onlookers if the subject happens to be a girl in a skimpy bikini!).
Pain In The Arse
Waist Harnesses also tend to sit higher on the body than seat harnesses. This can lead to more pressure through the lower back whilst riding and many people with lower back pain prefer seat harnesses because of this.
Crank The Kite
These harnesses also sit naturally slightly above most peoples centre of gravity, the bend between your hips and your stomach. This can make it slightly more difficult to really lean against the kite and drop all your weight on it when needed…ie when generating "pop."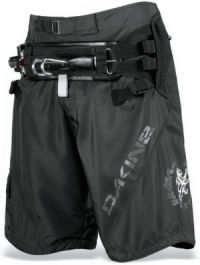 To Conclude
So all in all, seat harnesses are generally preferred by beginners due to the fact that it will not around your armpits and is more supportive and easier through the early stages of learning to fly a kite. Once people progress to riding upwind and starting their 1st tricks they generally move onto waist harnesses. For people with back problems I would always recommend seat harnesses.
On a side note there is now a range of seat harnesses that incorporate themselves into board shorts (they are actually stitched inside the lining of the shorts themselves). This eliminates one of the seat harnesses greatest disadvantages in that they actually look quite cool!