Communicating Over The Wind
As a kitesurfer you need to know the universal hand signals you will see employed on every kite beach the world over. This means that not only can you communicate with other kitesurfers on the beach even when it's blowing a gale, but also that you understand what others are trying to communicate to you so you can be a help not a hinderance on the beach and join in launching, landing and generally helping out your fellow kitesurfers.
We will take a look at the most used hand signals showing you a goofy (you never know whether to smile or not!) picture and explaining exactly what it means. Please make sure to be polite when doing this. Other people are not there for your convenience and should be thanked appropriately.
Land My Kite…Please!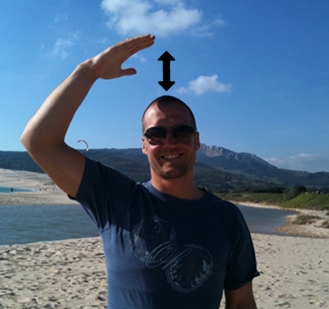 Patting the top of the head with either hand. Given by the person in control of the kite to a bystander on the beach. The signal means could you please land my kite for me. The person in control of the kite will then bring it down and hold the kite within easy grasp of the lander. The lander should either simply attempt to hold on to the kite if not sure what to do or secure the kite on the beach.
Land Your Kite To Me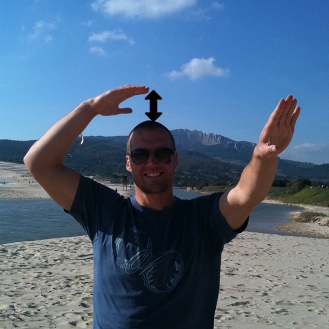 Patting the top of the head with either hand whilst pointing at the kite. Given by someone on the beach, this signals tells the person in control of the kite to land their kite to this person. Generally used by instructors but seen in general use as well.
Thumbs Up..All Good
The universal thumbs up all good signal, generally given right before launch to signal the launcher to release the kite. Its opposite, the thumbs down again used in relation to launching the kite is given by the pilot if there is a problem with the kite and they DO NOT want the launcher to release the kite.
Now lastly before we send you out to fly your kite we need to talk about things to look out for when choosing your kite flying location and kite flying etiquette. For the moment we'll keep it simple as I just want to make sure that when we let you loose on your local beach or in your local park you don't make a nuisance of yourself and end up ruining your experience and that of other users of the area.
Before you start
Before you even think about hoisting your kite make sure you do a thorough risk assessment of the area you've chosen to fly your kite. Remembering the lesson on obstacles and their effect on the wind speed ensure there is nothing in the area creating wind effects likely to cause you problems. You are looking for trees, buildings, hills, cliffs etc and should really be pretty obvious!! The real one to watch out for here, as they're not always immediately obvious are power lines, do not practice anywhere near power lines!
Make sure you are permitted to fly kites in that area. Sounds simple but more and more kite flying is only permitted in designated areas, outside of these areas you can often have problems with members of the public or more seriously the police. You might also find other kiters telling you to move to protect their own "right to fly" in the designated areas. Remember it only takes a few idiots breaking the rules for the local council to step in and ban kiting altogether. An outcome no one wants, check with your local kite shop or local council first.
The 3 C's…Check, Check, Check
Check the wind speed. You've just gone out and bought a new anemometer, use it, and make sure you stick to the manufacturers guidelines about what winds to fly your kite in. The golden rule here is, "If in doubt, don't go out." Better to live to kite another day than get over confident and wind up in hospital with broken bits!
When the wind blows it does not blow a consistent speed all the time. The wind speed changes direction and speed almost constantly. These changes in wind speed are referred to as gusts. If the wind is gusting too high above the average wind speed it makes conditions for flying kites dangerous and unpredictable. For example it's perfectly feasible to have an average wind speed of 18 knots with a gust speed of 29 knots…that would NOT be a good day for kiting! If the wind is gusting too much then at least until you're confident…forget it. It'll be unpleasant and dangerous. How much is too much…very difficult to say but I would say if its gusting 10 knots or more over the average wind speed take yourself to the pub instead.
1. You NEVER Have Right Of Way
The simple rule to follow here if you want an easy life and you don't want to spoil access to the area where you're practicing for yourself and for other potential kiters is simply give way to everyone, dog walkers, families, other kiters…everybody. The more polite and considerate you are to other users of the area the better of you'll be in the long run
So what do I mean by 'give way' simply put if anyone comes with 'twonking' range of your kite or lines (normally if they come with 50m of you, downwind or 20m of you upwind) either drop your kite or at the very least (and if you have enough control) move the kite to the complete opposite side of the window.
2. Be Aware Of The Space You Are Taking Up
Kite flying takes up an incredible amount of room, at least 25m in every direction downwind due to the length of the lines, you should double this distance to give you a sizable buffer zone as well. So if you reckon you should have clear space of 50m in every direction downwind and at least 20m upwind, you can begin to see how much room you are effectively occupying.
Please be aware this land is (probably) not yours and you must respect other users of that land. It only takes a phone call to the local council from one irate dog walker and the next time you arrive at your favourite kite spot you find signs up everywhere banning the flying of kites at that spot. Councils will pretty much always side with a normal user of the area over a kiter and in many places kiting is being increasingly viewed as a nuisance. Please don't give councils the excuse they are looking for to stop kiting in your local area…how do you do this?
Simple, be courteous and GIVE WAY TO EVERYONE!
3. Obstacles And Hazards In Your Flight Area Will Hurt!
 Make sure your flight and launch and landing area are clear of any hazards, obstacles or anything else that can hurt if you collide with it. Whilst flying the kite initially you will find it difficult to concentrate on anything else and can easily end up moving around more than you intend. Besides, having something in your flight area that you're trying to avoid simply makes the whole process much, much harder.
If you have any doubts about where you can and can't fly kites please get in touch with either your local council or local kite school who will be only too happy to help.